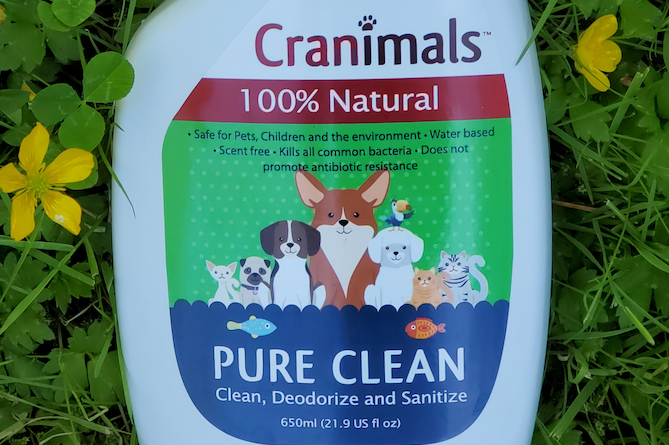 Cranimals Pure Clean 100% Natural Antibacterial Sanitizer and Cleaner
Ever wish you could find a lab tested natural sanitizer and cleaner that actually works for your pet related jobs ? Chemical household cleaners , including bleach, disinfectants or sanitizers are often harmful to humans and pets. Even more so for sensitive pets, children and seniors with chemical sensitivities.
Cranimals Pure Clean 
eliminates the risk. Made from a 100% natural extract in a 97% water base, it cleans and kills >99% of bacteria, is scent free, and can safely be used for cleaning up around pets. For example raw meal prep, kennels, pets leashes and clothes, bowls, hard surfaces, litter boxes. it can even be sprayed directly on your pet. As an added bonus it is not harmful to human hands and skin. Many pet products claiming to be sanitizers, are merely soaps with essential oils added. Essential oils are wonderful, but can also be problematical to pets, especially cats in your home. Cranimals Pure clean is the only scent free, lab tested product for safe cleaning, sanitizing and deodorizing in your home and around your family. Safe for the environment and does not promote antibiotic resistance.
Blog Archive
February 2023
June 2020
September 2019
July 2017
Recent Post